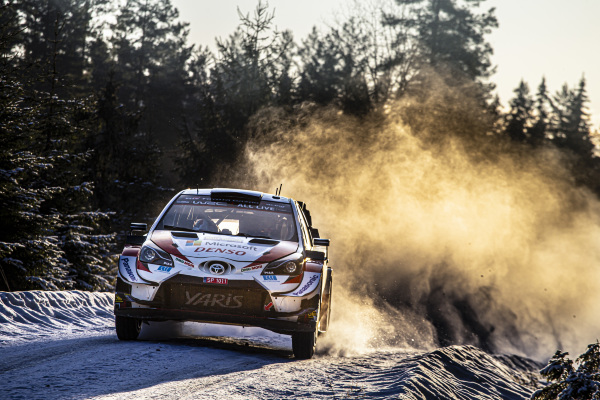 WRC – Rally Sweden preview
Temperatures are expected to be below zero, but the action will be sizzling when the FIA ​​World Rally Championship returns to Sweden for the second edition of the WRC's exciting new hybrid-powered Rally1 era next week.
From February 24-27, the university town of Umeå – and the surrounding forests of the Västerbotten region – will host Rally Sweden, a founding round of the WRC in 1973 but a notable absentee in 2021 amid COVID-19 restrictions forced him. its cancellation.
The highly anticipated return of the event marks uncharted territory for the WRC, its drivers and teams after the rally moved from its traditional hub in Värmland to another winter wonderland in northeast Sweden where 17 stages covered in ice and snow await you.
Although the relocation has allowed organizers to offer what is effectively a new rally, the expected arctic-like conditions should contribute to another memorable event following the exhilaration of the season-opening Rallye Monte-Carlo on last month.
Rallying on snow and ice creates a unique spectacle as drivers rely on a combination of downforce on snowbanks and the grip of their studded tires to negotiate high-speed corners.
Official supplier Pirelli's upgraded Sottozero Ice tyres, fitted to all Rally Sweden Rally1, Rally2 and Rally3 cars, feature 384 tungsten-tipped studs, each protruding seven millimeters from the tread blocks to bite into ice jelly below.
THE RALLY1 RULES EXPLAINED
Heralding the dawn of a new, more sustainable era, the Rally1 regulations are the result of extensive work by the FIA ​​in partnership with competing manufacturers, Hyundai, M-Sport (Ford) and Toyota.
They've aligned to deliver a category that maintains spectacular performance, further improves safety, while focusing on developing strategies that can help support the environment. In addition to the plug-in hybrid unit, which is mated to the existing 1.6-litre turbocharged internal combustion engine, Rally1 cars run on 100% non-fossil fuel.
The hybrid kit includes a 100 kW electric motor mounted on a 3.9 kWh battery and can deliver performance levels of over 500 hp. Significantly, however, Rally1 cars are designed to run in electric-only mode, which they will be required to do in Hybrid Electric Vehicle (HEV) zones near the event's service parks.
Rally1 cars are identifiable by an 'HY' graphic on the side door panels. The safety lights on the windscreen and both side pillars will be green if the car is safe to touch. A flashing red light with an audible warning means it is dangerous to hit a car.
With over 45% of all cars sold in Sweden in 2021 electrified, the country is an ideal venue to host the second round of the 13-event WRC season.
ENTRANCE 2022
Ten Rally1 cars are set to contest Rally Sweden, the first in a series of events that reigning FIA WRC champion Sebastien Ogier has not included in his restricted 2022 calendar. His absence allowed Esappekka Lappi to return to the championship via an arrangement to share the Frenchman's Toyota GR Yaris Rally1 on selected rounds.
FIA World Rally Championship leader Kalle Rovanperä and former Rally Sweden winner Elfyn Evans join Lappi at Toyota Gazoo Racing to chase points towards the FIA ​​World Rally Championship for Manufacturers. Takamoto Katsuta, who took a decisive WRC2 victory at Rally Sweden in 2018, completes Toyota's attack.
After claiming the first victory of the Rallye1 era at Rallye Monte-Carlo, Sébastien Loeb hands over the role of M-Sport Ford World Rally Team leader to Craig Breen, who drove his Ford Puma Rally1 to third place in Monaco. Adrien Fourmaux and Gus Greensmith make up the rest of the M-Sport Ford World Rally Team.
Hyundai Shell Mobis World Rally Team duo Thierry Neuville and Ott Tänak are on an exclusive list of five non-Nordic drivers to win Rally Sweden, the home event of 20-year-old team-mate Oliver Solberg.
SUPPORT CATEGORIES
The restructured FIA WRC2 Championship for Rally2 cars continues on Rally Sweden with separate classifications for teams, drivers and co-drivers, as well as junior drivers and junior co-drivers, while the Masters Cup rewards the best drivers and co-drivers born in January or earlier. 1, 1972.
Rally Sweden also hosts the opening round of the FIA ​​Junior WRC Championship, which uses four-wheel-drive Rally3 cars for the first time. Eight young drivers in identical Pirelli-equipped Ford Fiesta Rally3s from M-Sport Poland will be in action with Sami Pajari aiming to become only the second driver in history after Swede PG Andersson to win the Junior Championship twice. Among Pajari's rivals are Jon Armstrong, who returns after finishing second to the Finn in 2021, and McRae Kimathi, the fourth African driver and first Kenyan driver to contest the WRC Junior Championship.
Reigning champion Andreas Mikkelsen tops the WRC2 standings after winning the class at Rallye Monte-Carlo, while Škoda-powered Toksport WRT team-mate Nikolay Gryazin leads the WRC2 Junior contenders. His rivals include Finns Emil Lindholm and Jari Huttunen, who joins Swede Mattias Adielsson in a second M-Sport Ford Fiesta Rally2. Mauro Miele and Michał Sołowow are among the entries for the WRC2 Masters.
THE 2022 COURSE
Rally Sweden's return to the WRC will begin at 8:00 p.m. local time on Thursday 24 February with the official ceremonial start in central Umeå. Friday's route takes crews north of the host city for two three-stage loops separated by a service stop in Umeå. SS2 and SS5, Kamsjön, is the longest of the event and the northernmost. Umeå's 5.53 kilometer sprint completes the action of the day and ends in the spectator area of ​​the Red Barn Arena, close to the service park. Three repeat stages separated by service in Umeå make up the challenge on Saturday – four were originally planned but the double run through the Örträsk special stage was removed from the route due to a local issue with the unexpected movement of reindeer herds at local farms. Both loops end with the Umeå stage, a longer version of the Friday evening Umeå Sprint. Sunday's route features four stages, with the second run through the 14.23-kilometre Sarsjöliden test counting as the decisive Power Stage from 12.18pm local time.
RALLY DATA
Total distance: to be confirmed
Stage distance: 264.79 km
Number of floors: 17
MEDIA ACCREDITATION
Media accreditation must be collected personally by accredited pass holders at the accreditation desk located in the media center at Dragongatan 1, Umeå (the Dragonskolan sports hall on the opposite side of the road from the headquarters building of the rally). GPS coordinates: N63°49.960′ E20°14.665′
Opening hours are:
Tuesday February 22: 2 p.m. – 8 p.m.
Wednesday, February 23: 8:00 a.m. – 9:00 p.m.
Thursday February 24: 08:00 – 22:00
The Media Center is open as follows:
Tuesday February 22: 2 p.m. – 8 p.m.
Wednesday, February 23: 8 a.m. – 9 p.m.
Thursday February 24: 08:00 a.m. – 10:00 p.m.
Friday, February 25: 07:50 a.m. – 10:00 p.m.
Saturday February 26: 07:25 – 22:00
Sunday February 27: 5:45 a.m. – 11:00 p.m.
2022 RALLY SWEDEN TIMETABLES AND MEDIA OPPORTUNITIES
| | |
| --- | --- |
| Wednesday February 23 | |
| FIA Photographers Safety Briefing, Media Center | 5:00 p.m. |
| Team media functions | From 5:30 p.m. |
| | |
| Thursday February 24 | |
| Shakedown P1 and other pilots on request, Umeå | 09:01 – 10:00 |
| Shakedown P1 + P2, Umea | 10:01 a.m. – 11:30 a.m. |
| Shakedown P2 + P3 + P4, Umea | 11:01 a.m. – 12:30 p.m. |
| Shakedown P3 + P4 + non-priority, Umeå | 12:00 p.m. – 1:30 p.m. |
| Meet the Crews (top 3 at Shakedown), Service Park | 12:30 p.m. |
| FIA press conference before the event, Media Centre* | 1:00 p.m. |
| P1 crews selected to drive from SP to Umeå Town Hall | 5:50 p.m. – 6:00 p.m. |
| Rally Sweden Group photo with all the P1 crews | 6:40 p.m. – 6:55 p.m. |
| Autograph signing in Väven, Umeå | 7:00 p.m. – 7:45 p.m. |
| Opening ceremony, Umeå | 8:00 p.m. |
| | |
| Friday February 25 | |
| Beginning of section 1 | 07:50 |
| Meet the crews (P1 team leaders, then top 3 drivers), SP | 7:30 p.m. (approximately) |
| | |
| Saturday February 26 | |
| Beginning of section 3 | 07:10 |
| Meet the crews (P1 team leaders, then top 3 drivers), SP | 7:30 p.m. (approximately) |
| | |
| Sunday February 27 | |
| Beginning of section 5 | 05:30 |
| Podium ceremony and award ceremony, Umeå | 2:00 p.m. |
| FIA post-event press conference, Media Centre* | 4:00 p.m. |
*Press conferences will be available to accredited media present on site and will no longer be streamed via Zoom. However, a written transcript will be available later. All Meet the Crews sessions can be followed on Rally Sweden's social media platforms.
MEDIA AREAS
All priority drivers will be available for media interviews at the following times:
TC3A, TC7A, TC11A, TC15A, TC19A
PARTICIPATION IN THE FIA PRESS CONFERENCE
THURSDAY FEBRUARY 24
1:00 p.m. – FIA WR3 / Junior WRC
Sami Pajari (END)
McRae Kimathi (KEN)
13:10 – FIA WRC2
Toksport WRT – Emil Lindholm (FIN)
M-Sport Ford WRT – Mattias Adielsson (Sweden)
Ole Christian Veiby (NOR)

13:20 – FIA WRC
Toyota Gazoo Racing WRT – Kalle Rovanperä (FIN)
Hyundai Shell Mobis WRT – Oliver Solberg (Sweden)
M-Sport Ford WRT – Craig Breen (IRL)
SUNDAY FEBRUARY 27
FIA WRC3 Championship winning driver
FIA WRC2 Championship winning driver
FIA Junior WRC Championship-winning driver
The first three drivers in the general classification
Representative of the winning manufacturer
MANUFACTURER ENTRIES AT RALLY SWEDEN 2022
| | |
| --- | --- |
| Toyota Gazoo Racing WRT | Elfyn Evans (GBR) / Scott Martin (GBR) – #33 |
| | Kalle Rovanperä (FIN) / Jonne Halttunen (FIN) – #69 |
| | Esapekka Lappi (FIN) / Janne Ferm (FIN) – #4 |
| | |
| Hyundai Shell Mobis WRT | Thierry Neuville (BEL) / Martin Wydaeghe (BEL) – #11 |
| | Ott Tänak (EST) / Martin Järveoja (EST) – #8 |
| | Oliver Solberg (SWE) / Elliott Edmondson (GBR) – #2 |
| | |
| M-Sport Ford WRT | Craig Breen (IRL) / Paul Nagle (IRL) – #42 |
| | Gus Greensmith (GBR) / Jonas Andersson (SWE) – #44 |
| | Adrien Fourmaux (FRA) / Alexandre Coria (FRA) – #16 |
2022 FIA WORLD RALLY CHAMPIONSHIP CLASSIFICATIONS
The classification at the end of the opening round of the 2022 FIA World Rally Championship season is available on this link: https://www.fia.com/events/world-rally-championship/season-2022/standings
2020 RALLY SWEDEN RESULTS (2021 edition canceled due to COVID-19 restrictions)
| | | |
| --- | --- | --- |
| 1. Elfyn Evans/Scott Martin | Toyota Yaris WRC | 1h11.43.1s |
| 2. Ott Tanak/Martin Jarveoja | Hyundai i20 Coupe WRC | +12.7s |
| 3. Kalle Rovanpera/Jonne Halttunen | Toyota Yaris WRC | +20.2s |
RECENT WINNERS
| | | |
| --- | --- | --- |
| 2019 | Ott Tanak / Martin Jarveoja | Toyota Yaris WRC |
| 2018 | Thierry Neuville/Nicolas Gilsoul | Hyundai i20 Coupe WRC |
| 2017 | Jari-Matti Latvala/Miikka Anttila | Toyota Yaris WRC |
| 2016 | Sebastien Ogier/Julien Ingrassia | Volkswagen Polo R WRC |
| 2015 | Sebastien Ogier/Julien Ingrassia | Volkswagen Polo R WRC |