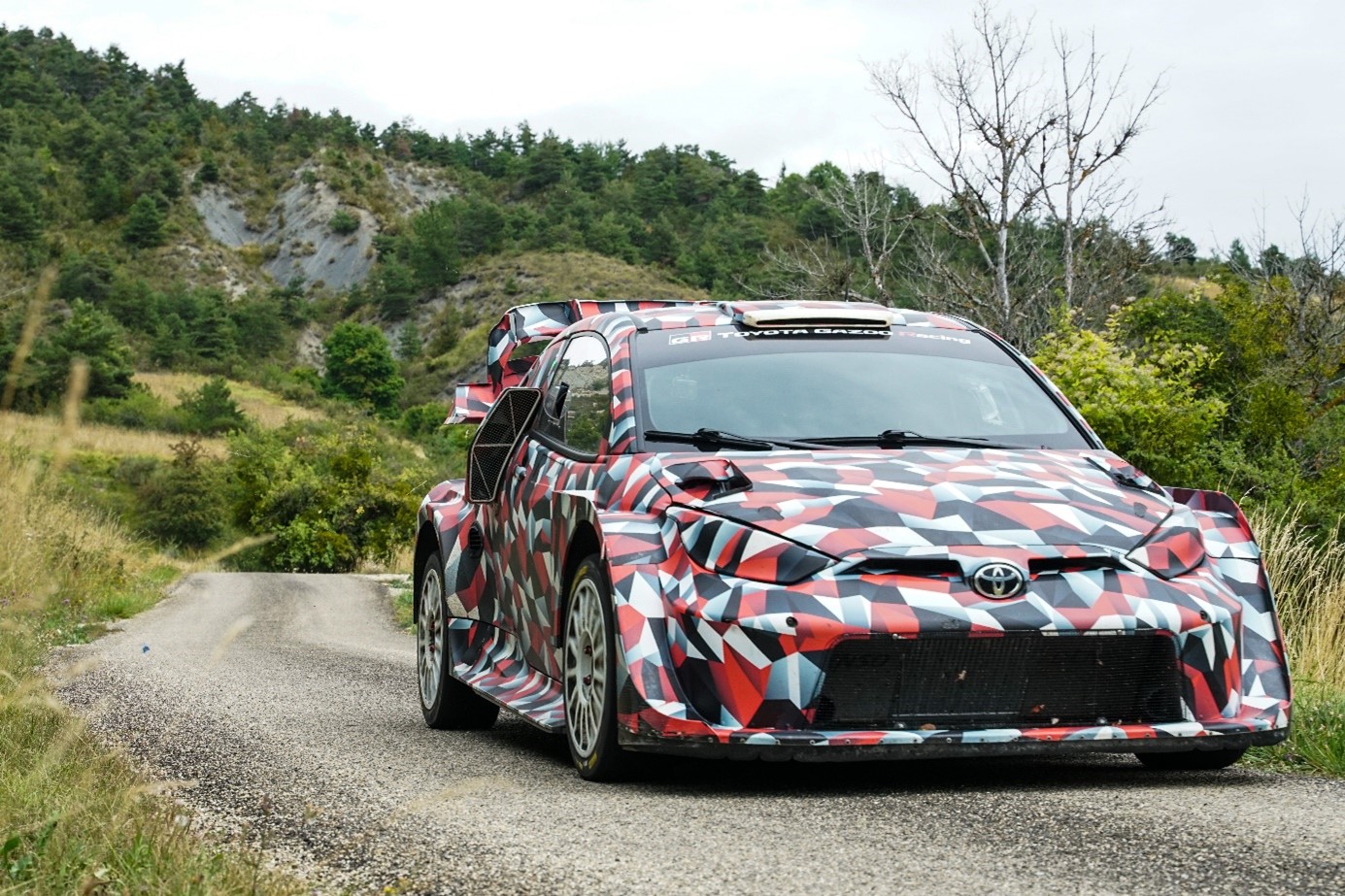 WRC – Monte-Carlo Rally – FIA presentation
Heralding the dawn of a new and lasting era, the Rally1 regulations are the result of in-depth work by FIA departments in partnership with competing manufacturers Hyundai, M-Sport (Ford) and Toyota.
Together they have aligned to deliver a category that maintains spectacular performance, further improves safety, while having a firm focus on the environment. In addition to the plug-in hybrid unit, which is mated to the existing 1.6-litre turbocharged internal combustion engine, Rally1 cars run on 100% non-fossil fuel.
The hybrid kit includes a 100 kW electric motor mounted on a 3.9 kWh battery and can take the combined performance levels to over 500 hp. Significantly, however, Rally1 cars are designed to run in electric-only mode, which they will be required to do in Hybrid Electric Vehicle (HEV) zones near the event's service parks.
Rallye Monte-Carlo is the first of 13 rounds of the WRC on three continents between January and November. First staged in 1911, the event is considered one of the toughest on the calendar due to the likelihood of fluctuating grip levels and changing weather conditions. They place great importance on the choice of Pirelli tires as the riders and their teams try to select the most suitable tires for the conditions.
The start of the WRC's half-century celebrations at the 90th edition of Rallye Monte-Carlo is marked by major advancements from the FIA's rallying governing body, both in terms of sustainable technology and safety. Plug-in hybrid-powered Rally1 cars have increased performance levels while reducing harmful emissions. Aligned with important safety innovations – the result of months of intensive research and development – the FIA ​​is overseeing a period of far-reaching change that is essential to strengthening the sport, its appeal and its importance for the future.
ENTRANCE 2022
A capacity of seventy-five cars, including 11 Rally1s, is entered for the Rallye Monte-Carlo. Reigning FIA WRC champion Sebastien Ogier leads the field in a Toyota GR Yaris Rally1 as he targets his record ninth victory in the principality and his first with new co-driver Benjamin Veillas.
Eight-time Monte-Carlo winner and nine-time world champion Sébastien Loeb returns to the WRC in a Ford Puma Rally1 M-Sport co-driven by Isabelle Galmiche. Both Ogier and Loeb are planning select appearances in 2022, with Rallye Monte-Carlo being a rare opportunity to see them both in action. Like the illustrious Frenchman, Hyundai i20 N Rally1 driver Thierry Neuville is also a former Monte-Carlo winner, while Ott Tänak completes the list of past and present FIA WRC champions in action.
As well as Loeb, the M-Sport line-up includes Craig Breen, Adrien Fourmaux and Gus Greensmith, while Elfyn Evans, Takamoto Katsuta and Kalle Rovanperä join Ogier at Toyota Gazoo Racing. Rallye Monte-Carlo marks Oliver Solberg's first event as part of Hyundai's comprehensive factory effort.
SUPPORT CATEGORIES
FIA WRC2 for Rally2 cars has been restructured for 2022 and offers separate rankings for teams, drivers, co-drivers and juniors. The Masters Cup includes awards for the best driver and co-driver.
Andreas Mikkelsen begins the defense of his FIA WRC2 Drivers title with new recruit Torstein Eriksen, who won the WRC2 Co-Drivers title in 2021 alongside Mads Østberg. Yohan Rossel becomes last season's WRC3 champion, while Eric Camilli and Nikolai Gryazin have both won WRC2 events in the past.
Gryazin is also eligible for the WRC2 Junior title with opposition from Marco Bulacia and Gryazin's fellow FIA European Rally Championship graduates Erik Cais, Grégoire Munster and 2019 ERC champion Chris Ingram. WRC works driver Freddy Loix is ​​also in contention for the overall WRC2 points classification with 19 rivals.
Sami Pajari, the 2021 FIA Junior WRC champion, will take on Enrico Brazzoli and Jan Černý in FIA WRC3, which is exclusively for this season's Rally3 cars, in line with the FIA ​​Rally Sporting Pyramid.
Rallye Monte-Carlo is also the opening round of the 2022 FIA R-GT Cup. Last season's runner-up Emmanuel Guigou leads an eight-car team that also includes French legend François Delecour, who won the Rallye Monte-Carlo in 1994. Both drive Alpine's A110 R-GT.
THE 2022 COURSE
Based entirely in Monaco for the first time since 2006 after spells based in Valence and Gap, the 90th Rallye Monte-Carlo includes three days of reconnaissance from January 17-19, during which crews will sample a 296.03-kilometre course at 95% new compared to 2021.
The shakedown kicks off on January 20 at 09:31 local time and provides the first opportunity to check how the Rally1 cars perform against the clock. A renovated Place du Casino then hosts the traditional solemn start from 6:45 p.m. on January 20 before the action begins for real with two night stages – Lucéram / Lantosque and La Bollène-Vésubie / Moulinet – in the Alpes-Maritimes. La Bollène-Vésubie / Moulinet is the longest stage of the rally with 23.25 kilometres.
The crews join the Alpes-Maritimes on Friday January 21 for two loops of three stages, on either side of a tire fitting area in Puget-Théniers, totaling 97.86 timed kilometres. The Alpes-de-Haute-Provence host the 92.46 kilometers of competition on Saturday. After the single-pass stage Le Fugeret / Thorame-Haute, there are two passes of Saint Jeannet / Malijai and Saint-Geniez / Thoard, separated by a tire mounting area in Digne-les-Bains.
It started on Sunday northwest of the Alpes-Maritimes for the last 67.26 kilometers of running and two repeated stages, the new La Penne / Collongues, plus Briançonnet / Entrevaux, which counts as the Power Stage when it is repeated from 12:00 p.m. CET. The Place du Casino hosts the awards ceremony from 4:00 p.m.
FOCUS ON SAFETY
In introducing hybrid technology to the WRC, the FIA ​​has put in place a number of safety measures, such as requiring hybrid components to be contained within a reinforced safety structure.
Rally1 cars are identifiable by an 'HY' graphic on the side door panels. The safety lights on the windshield and both side pillars will be green when the car is safe to touch. A flashing red light with an audible warning means it is dangerous to hit a car. An awareness campaign on social networks has also been launched and highlights the precautions to be taken by spectators and security teams in the event of an accident due to the high voltage electric current they can generate.
All Rally1 cars must carry two pairs of Class 0 gloves capable of withstanding 1000 volts which can be easily accessed by the driver and co-driver when leaving their car. This will allow both team members to provide valuable assistance in the event of a high voltage problem affecting either their car or a competitor's car. Crews and volunteer officials also received essential training.
RALLY DATA
| | |
| --- | --- |
| Total distance: | 1511.47 kilometers |
| Step distance: | 296.03km (19.59%) |
| Number of steps: | 17 |
MEDIA ACCREDITATION
All participants are required to respect the COVID protocol as defined by the event organizers and the Automobile Club de Monaco. Media accreditation must be collected personally by accredited Pass holders at the Accreditation Office, located at Salle des Expositions – 4, Quai Antoine 1er, Monaco.
Opening hours are:
Monday January 17: 2 p.m. – 8 p.m.
Tuesday January 18: 8 a.m. – 8 p.m.
Wednesday January 19: 8 a.m. – 8 p.m.
Thursday, January 20: 8 a.m. – 9 p.m.
TIMETABLES AND PRESS OPPORTUNITIES OF THE RALLY MONTE-CARLO 2022
| | |
| --- | --- |
| Wednesday January 19 | |
| FIA Press Conference (Media Center + link to follow online will be provided) | 4:30 p.m. |
| -FIA RGT | 4:30 p.m. |
| -FIA WRC3 | 4:40 p.m. |
| -FIA WRC2 | 4:50 p.m. |
| -FIA WRC | 5:00 p.m. |
| Mandatory safety briefing for photographers, Media Center | 6:00 p.m. |
| | |
| Thursday January 20 | |
| Shakedown P1 drivers only, Sainte-Agnès – Peille | 9:31 a.m. – 11:30 a.m. |
| Official photograph of WRC cars, Place du Casino, Monaco | 6:00 p.m. |
| Official photograph of WRC drivers, Place du Casino, Monaco | 6:15 p.m. |
| Departure ceremony, Place du Casino | 6:45 p.m. |
| Beginning of sections 1 and 2 | 6:45 p.m. |
| Arrival of the first car for the regrouping and the media zone, Roquebillière (TC1A) | 8:53 p.m. |
| The first car arrives in the media, tech area. area & services, Monaco (TC2A) | 11:21 p.m. |
| | |
| Friday January 21 | |
| Departure of Sections 3 & 4, Monaco | 07:01 |
| Arrival of the first car for the regrouping and the media zone, Puget-Théniers (TC5A) | 12:10 p.m. |
| The first car arrives in the media, tech area. area & services, Monaco (TC8A) | 6:42 p.m. |
| | |
| saturday 22 january | |
| Departure of Sections 5, 6, Monaco | 05:49 |
| Arrival of the first car for the regrouping and the media zone, Digne-Les-Bains (TC11A) | 12:16 p.m. |
| The first car arrives in the media, tech area. area & services, Monaco (TC13A) | 7:01 p.m. |
| | |
| Sunday January 23 | |
| Departure of Sections 7, 8 and 9, Monaco | 06:37 |
| Arrival of the first car for the regrouping and the media zone, Briançonnet (TC14A) | 09:20 |
| The first car arrives in the media, tech area. area & services, Monaco | 2:13 p.m. |
| Podium Ceremony & Prize Giving, Place du Casino, Monaco | 4:00 p.m. |
| FIA press conference (a link to follow online will be provided) | 5:00 p.m. |
| – FIA RGT, WRC2, WRC3 winning drivers | 5:00 p.m. |
| -Three best drivers in the general classification and representative of the winning manufacturer | 5:10 p.m. |
PARTICIPATION IN THE FIA PRESS CONFERENCE
Wednesday January 19
FIA WRC
Sebastien Ogier (FRA) – Toyota Gazoo Racing WRT
Thierry Neuville (BEL) – Hyundai Shell Mobis World Rally Team
Sebastien Loeb (FRA) – M-Sport Ford World Rally Team
FIA WRC2
Andreas Mikkelsen (NOR) – Toksport WRT
Yohan Rossel (FRA) – PH Sport
Eric Camilli (FRA) – Saintéloc Junior Team
FIA WRC3
Sami Pajari (END)
Jan Cerny (CZE)
FIA TMN
Emmanuel Guigou (FRA)
Francois Delecour (FRA)
Sunday January 23
FIA RGT championship winning driver
FIA WRC3 Championship winning driver
FIA WRC2 Championship winning driver
The first three drivers in the general classification
Representative of the winning manufacturer
MANUFACTURER COMMITMENTS RALLYE MONTE-CARLO 2022
| | |
| --- | --- |
| Toyota Gazoo Racing WRT | Sebastien Ogier (FRA) / Benjamin Veillas (FRA) – #1 |
| | Elfyn Evans (GBR) / Scott Martin (GBR) – #33 |
| | Kalle Rovanperä (FIN) / Jonne Halttunen (FIN) – #69 |
| | |
| Hyundai Shell Mobis WRT | Thierry Neuville (BEL) / Martijn Wydaeghe (BEL) – #11 |
| | Ott Tänak (EST) / Martin Järveoja (EST) – #8 |
| | Oliver Solberg (SWE) / Elliott Edmondson (GBR) – #2 |
| | |
| M-Sport Ford WRT | Craig Breen (IRL) / Paul Nagle (IRL) – #42 |
| | Adrien Fourmaux (FRA) / Alexandre Coria (FRA) – #16 |
| | Sebastien Loeb (FRA) / Isabelle Galmiche (FRA) – #19 |
2021 FIA WORLD RALLY CHAMPIONSHIP CLASSIFICATIONS
The ranking of all WRC championships following the 2021 season is available on this link:
https://www.fia.com/events/world-rally-championship/season-2021/standings
2021 RALLY MONTE-CARLO RESULTS
| | | |
| --- | --- | --- |
| 1. Sebastien Ogier/Julien Ingrassia | Toyota Yaris WRC | 2h56m33.7s |
| 2. Elfyn Evans/Scott Martin | Toyota Yaris WRC | +32.6s |
| 3. Thierry Neuville/Martijn Wydaeghe | Hyundai i20 Coupe WRC | +1m13.5s |
RECENT WINNERS
| | | |
| --- | --- | --- |
| 2021 | Sebastien Ogier/Julien Ingrassia | Toyota Yaris WRC |
| 2020 | Thierry Neuville/Nicolas Gilsoul | Hyundai i20 Coupe WRC |
| 2019 | Sebastien Ogier/Julien Ingrassia | Citroen C3 WRC |
| 2018 | Sebastien Ogier/Julien Ingrassia | Ford Fiesta WRC |
| 2017 | Sebastien Ogier/Julien Ingrassia | Ford Fiesta WRC |