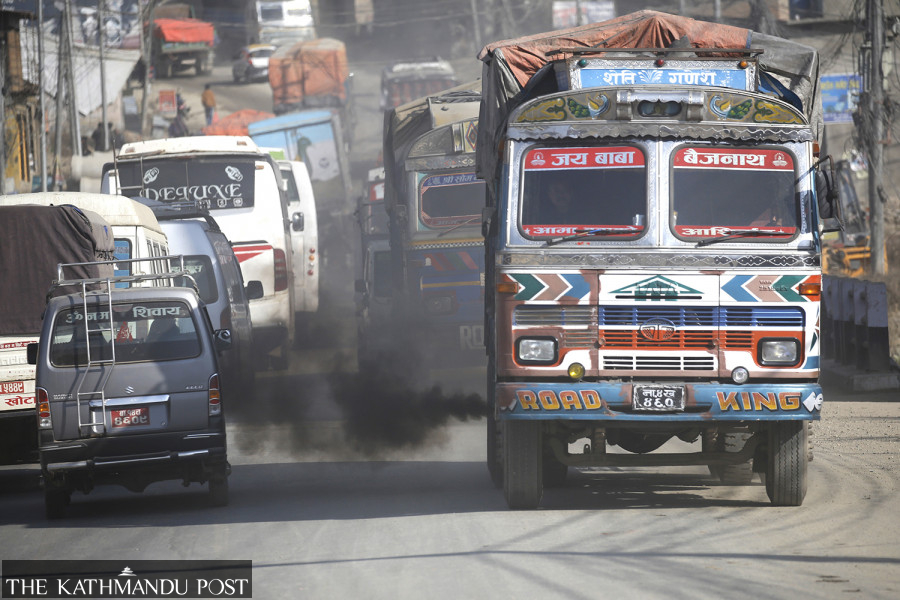 In an exercise in futility, Nepal imports new generation fuel for old generation vehicles
In a fine example of putting the cart before the horse, Nepal switched to Euro VI petrol two years ago; but Euro VI-compliant automobiles, which use the new, cleaner fuel, have yet to arrive in the country. The state oil monopoly Nepal Oil Corporation has been importing Euro VI compliant gasoline and diesel since April 2020. control the increase in pollution levels in the country.
But without the accompanying Euro VI-compliant vehicles, that decision doesn't make much sense, environmentalists say.
Environmental campaigners say the full environmental impact of having cleaner fuels will only become apparent when Euro VI compliant vehicles are paired with Euro VI compliant fuels.
"Euro VI fuels power technologically older engines, and there is no environmental benefit," said Sushil Bhattarai, deputy general manager of Nepal Oil Corporation.
The Environment Ministry says it had long considered having Euro VI-compliant vehicles, but car dealers were not keen on the idea.
"The file is at the Ministry of the Environment. We are discussing the implementation of Euro IV or Euro VI vehicles," Nabin Kumar Pokharel, senior divisional engineer at the ministry, told The Post.
The ministry has not discussed the issue with relevant stakeholders.
A committee was formed a few years ago and research was also done. Since the oil monopoly began importing Euro VI-compliant fuel, the ministry had been preparing to apply new rules for Euro VI vehicles. "But an official decision hasn't been made yet," Pokharel said.
The Nepal Automobile Dealers Association (NADA) does not want to implement the new rule immediately.
"We do not import Euro VI vehicles because we do not have qualified and trained personnel to repair them," said Subash Acharya, vice president of NADA. "The immediate implementation of Euro VI fuel will create problems for customers."
While Euro IV fuels contain 50 parts per million (ppm) of sulphur, the sulfur content of Euro VI grade fuel is only 10 ppm. Harmful nitrogen oxide emissions from diesel cars can be reduced by up to 70% and those from petrol cars by 25% by using Euro VI petrol.
The new standard is also believed to reduce carcinogenic particulates in diesel emissions by up to 80%. The Euro fuel standard is based on the European Union fuel and emission standards which were introduced in 1993. Since then the standards have been constantly improved to make fuels cleaner and more environmentally friendly .
"The government is not coordinating with car importers. We are ready for Euro VI compliant vehicles and we can start importing them within six months, but the government should have a solid strategy before the rule is implemented," Acharya said.
According to car dealers, the cost difference between standard Euro VI vehicles and Euro III and IV vehicles ranges from Rs30,000 to Rs100,000 for motorcycles, Rs600,000 to Rs600,500 for four-wheeled vehicles and Rs1 million to Rs2 million for commercial vehicles.
Kapil Shiwakoti, sales and operations manager of Laxmi Group, said many companies have been importing Euro VI-compliant two- and four-wheelers for the past two years.
"But the implementation of Euro VI standards in commercial vehicles can have an impact on the market. We don't have the necessary manpower. They must be stationed in different parts of the country. It's hard to do that in the short term," said Shiwakoti, who is also chairman of NADA's environment department.
"The mechanics available have no knowledge of Euro VI vehicles and the network of car dealerships does not extend to the whole country," Shiwakoti said.
"The government can implement Euro IV now and gradually move to Euro VI over the next two years."
The Nepal Oil Corporation says pollution will not be reduced by using Euro VI petrol and diesel in Euro III and IV vehicles. "It can cause more pollution if the vehicle engine is not compatible with the fuel type," Bhattarai said.
"The combination of Euro VI vehicles and fuel minimizes pollution, making the environment significantly cleaner," he said.
"We said that imported vehicles should be Euro VI compliant, then imported fuel by paying so much will be rightly used."
Most motor vehicles in Nepal are only Euro II or Euro III compliant.
Nepal imported petroleum products worth Rs 182 billion in the first seven months of the fiscal year ending mid-February. Officials said the import bill had ballooned due to higher prices and did not reflect an increase in quantity.
According to the Customs Department, the country imported vehicles and parts and accessories worth Rs 69.15 billion in the first seven months of the current fiscal year.
A study conducted by the International Center for Integrated Mountain Development in 2017 found that around 35% of diesel-powered vehicles in the Kathmandu Valley emit a visible plume of black smoke, contributing significantly to ambient pollution.