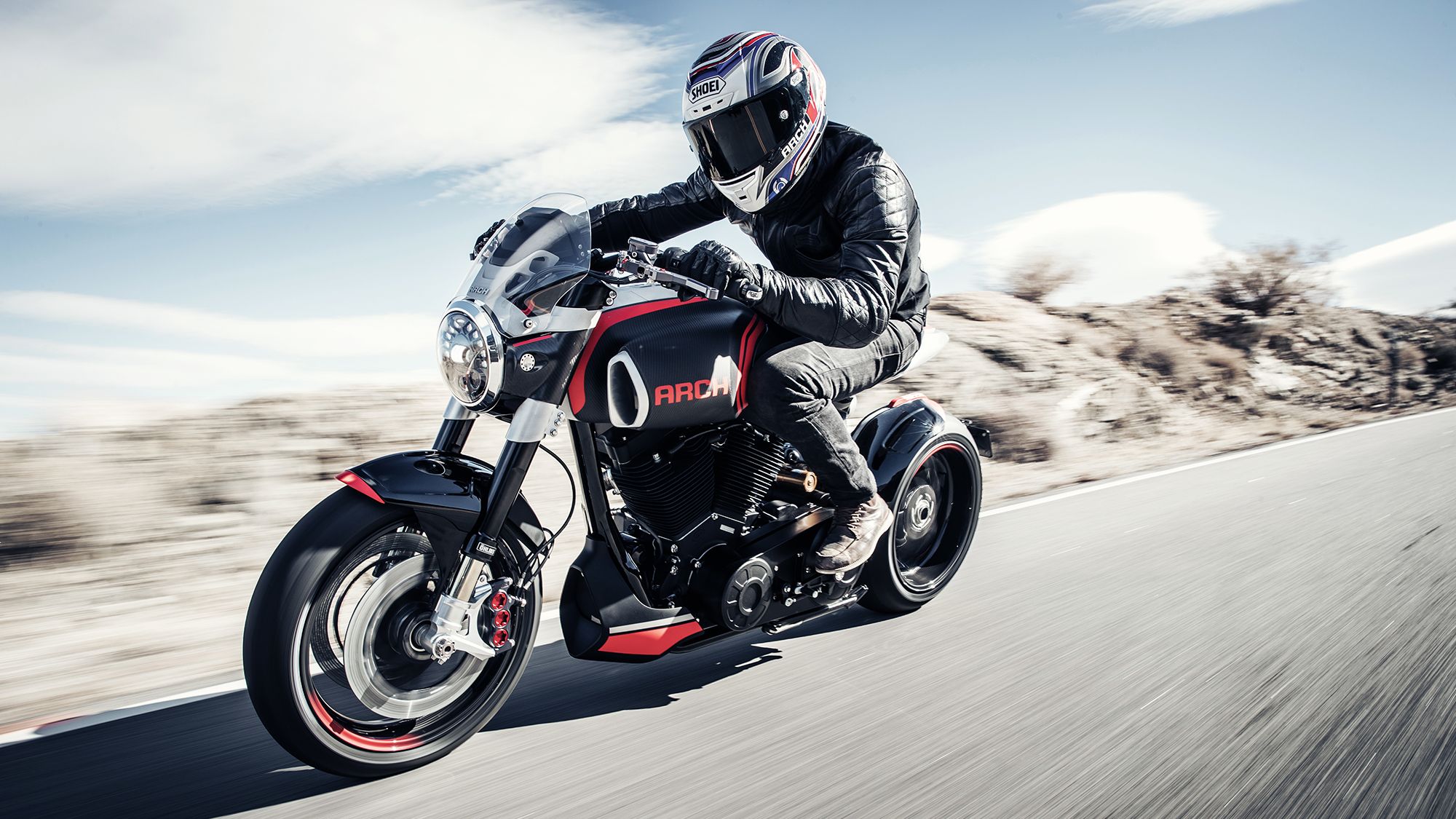 Arch Motorcycle 1S unveiled with 2000cc engine and $128,000 price tag
Priced at $128,000, the 1S is as exquisite as modern motorcycles come
The 1S has mid-mounted controls coupled with low, flat handlebars for a comfortable yet sporty riding posture
Arch Motorcycle, co-founded by Keanu Reeves (Neo from the Matrix movies), is popular for building expensive but stellar motorcycles that focus on quality over quantity. True to that MO, the company has now released the Arch 1S motorcycle loaded with premium components and a 2032cc engine to redefine cruising.
The Arch 1S looks raw, sexy and muscular
The carbon fiber finished Cobra-style exhaust is a neat little touch
One look at the Arch 1S, and you'll stop and stare. Based on the 1S concept from 2017, the new motorcycle looks muscular from any angle and follows a neo-retro design. The dash features an all-LED headlight (with cornering function) flanked by a short windshield and relatively flat handlebars. The bars themselves are a work of art as they ensure a sporty yet comfortable riding posture and feature unique LED indicators at the end of the bar. Right behind you'll find an aggressively shaped carbon fiber fuel tank with a one-of-a-kind machined aluminum fuel cover.
RELATED: Top 10 Most Iconic Cruiser Motorcycles Of All Time
At the opposite end, Arch has honed the 1S, and it rocks a sleek rear section. It is completed with a Cobra-like carbon fiber end box and a single-sided swingarm, which makes the tushy of the bike impressive. And the seat only houses the pilot, so there is no space for a third party between the pilot and 1S.
The Arch 1S is ripe with high-end mechanics
Ohlins suspension at both ends and carbon fiber wheels ensure the 1S is a fast handling machine
RELATED: Top 10 Most Expensive Motorcycles In 2022
Underneath, Arch fitted the 1S with a mighty 2,032cc V-twin engine that produces 115 lb-ft of torque. The engine is built in conjunction with S&S Cycles and sits in a steel frame paired with a billet aluminum subframe. Other chassis components include Ohlins FGRT forks, Ohlins rear shock and six-piston brakes. All of this, alongside the BST carbon fiber wheels, should make the 1S a smooth handling bike. Arch says it will redefine sports cruising. Finally, bringing it all together, a TFT instrument cluster (first for Arch) made by AiM Sports.
Exorbitant price is part of the Arch experience
All the necessary information is transmitted to you via a TFT dashboard
Arch Motorcycle has priced the 1S Sport Cruiser at $128,000, making it hard to afford for most. But, it's anything but a bike for the average person, given the components on offer and especially the fact that it's hand-built by Arch Forks. Those who can pony up the dough can customize their 1S with the range of colors and materials. For those who can't but still want a powerful and sporty cruiser, check out the Triumph Rocket 3, which boasts the largest production engine in the world.